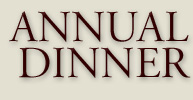 The North Bay Sports Hall of Fame induction dinner series began in 1980, three years after the Hall's founding in 1977. The first dinner was simply an induction affair, to honour the newly named members of the Hall. In 1982, the committee behind the USAF Sports Achievement Award asked that the second induction dinner be used as the vehicle to recognize the recipient of the USAF Trophy and that tradition has continued to this day. In 1984 the winners of the Reynolds (hockey), Mitchell (football), Brennan (coach/ executive) and Martyn (basketball) awards also came on board and two years later the Knapp (softball) recipients began to be honoured in this fashion as well.
In 1988 the Palangio (sportsperson) committee turned that award over to the North Bay Sports Award Committee and the NBSHF. In 1995 the newly created Britt Jessup Award winners (male and female athlete to provincial level) were recognized at the Hall of Fame affair. In recent years three other new awards were added to the dinner roster- the Kelly for Team of the year and the Handley Friend of Sport and the Jim Aspin Memorial Award for Executive of the Year – the Brennan Award was changed to recognize the the coach of the year. In 2014, the Knapp Award was renamed the Dominico Family Award, and the DIA Award was renamed the Jack Burrows Memorial Sports Achievement Award. The NBSHF dinner, which began as an induction event, has become an Induction and Awards evening, a vehicle by which the recipients of all of the major city wide individual sports awards as well as the newest members of the Hall of Fame, are recognized and feted in a public forum.
At the 40th Annual Induction and Awards Dinner, the following were inducted into the North Bay Sports Hall of Fame:

Susan Fisher was born in Kapuskasing and her early sports were hockey and curling. In 1970 she arrived in North Bay and 8 years later joined the North Bay Figure Skating Club executive and she did executive and organizational work as well as being a judge, evaluator, referee, trainer and technical representative for some 45 years. She spent a decade on the local executive and played a role in the 1986 Canadians held at the Gardens. In the eighties she trained as a Skate Canada Judge and Evaluator and through training and upgrading was able to evaluate skaters, judge competitions, referee and train judges. She was Technical Representative for over 35 high level events since 2007, judged some 90 competitions, including 6 Skate Ontario Championships in the same time period and played an active role in both North Bay's Make it a Date to Skate and Huntsville's Skokie Skate for almost 40 years. She was Chair of Skate Ontario and coordinated the Super Series 3 times each, was the provincial events coordinator for several years and worked on event restructuring. A member of Skate Canada since 1978 she was awarded their Award of Excellence in 2015 and won a pair of Northern Ontario Volunteer awards. She taught at Chippewa and coached Raiders to individual and team success at both the NDA and NOSSA badminton tournaments.
Arriving in North Bay in 1984, Manitoba born Claude Peloquin began officiating and instructing curling after an injury temporarily forced him out of on ice activities. He obtained level 3 Official and level 2 Instructor certification through the Ontario Curling Association and became NOCA northeastern region chief official. Over a period of some 30 years he played roles in 46 Regional, Provincial, National and International Curling events, being Chief Official in 30 such competitions and Deputy Chief Official in 5 others as of 2022. He was Chief Official at the 2014 Canadian Mixed, the 2015 National Mixed Doubles and Canadian Travellers and Deputy Chief at the 2022 National Senior Men's and Senior Women's, 2020 Canadian Under 18, the Canadian Junior in 2016 and the 2014 National Mixed Doubles. He was an on ice official at the 2018 Ford Women's World's Curling Championships held here in North Bay as well as at the Tim Hortons Brier in 2016, the 2011 and 1988 Canadian Mixed, the 1992, 2013, 2014 and 2022 Scotties Tournament of Hearts, and the 2022 National U21 Men's and Women's. Provincially he was Chief Official at 3 OFSAA's and the 2015 Special Olympics; Regionally he was Chief Official for 23 championships in ten different divisions from Bantam through Senior for the Northern Ontario Curling Association. When he was able to return to curling as an active participant, the prominent curling builder skipped rinks to the Granite Club's Mazda Masters event 8 times between 2010 and 2018.
North Bay born Damon Topolie played football for Chippewa and had extensive local baseball experience including being named MVP in the MCTV Northern Select League in both 1993 and 1994 before making the Stratford Intercounty squad. He attended Division Two Tusculum University in Tennesee where he graduated in 1999 after being named to the small college all state All Star team. That same year he signed with the Toronto Maple Leafs of the famed Intercounty Baseball circuit and remained with that organization as a player, field manager and general manager for more than two decades. As a player he was an eight time IBL All Star; helped the Leafs win league championships in 1999, 2002 and 2007; was playoff MVP in 2002; was one of only four players to surpass 700 hits; was named to the IBL All Time Top 100 list and leads the Leafs career list in hits, rbi's and games played. For a decade and a half he was the lead catcher - instructor with the Ontario Blue Jay elite baseball camp and had extensive coaching experience at other camps and academies. In 2002 he coached a Team Canada Women's baseball squad to a silver medal in an International tournament in Australia. The Intercounty Baseball league has long been one of Canada's top semi-pro baseball organizations and Damon Topolie made an indelible mark in the IBL and on Canadian baseball.
Stephanie Topolie made her mark in baseball, softball, basketball and volleyball. The North Bay native started playing baseball here and won 5 OBA titles, later winning 5 more for Mississauga while chalking up four championships in the Central Ontario League. In 2001 she was an All Star outfielder for Team Canada in a Women's four country World series played at Skydome. She also played for the silver medal winning Team Canada at an International tournament in Australia in 2002 and played outfield for Team Canada in the IABF World Championships in Edmonton in 2004 - winning bronze. Stephanie had not played softball until she attended Goldey-Beacom College in Wilmington, Delaware but she played four seasons of varsity there, had 212 hits, 108 rbi's and 123 runs scored. During that time she was named an NAIA scholar-athlete and was a Central Conference and All Tournament All Star and in 2000 was a 1st Team Academic All American. She played college volleyball for three seasons and was a Central Conference and Tourney All Star in that sport as well. Topolie was also part of her college's first basketball team and in 2001 was listed on the NCAA's student-athlete who's who. She has been enshrined in the Goldey-Beacom Athletic Hall of Fame. While at Widdifield S.S. she won OFSAA gold in volleyball; while attending Chippewa she reached the OFSAA level in basketball and competed in track at NOSSA.
At the 41st Annual Induction and Awards Dinner, the following were inducted into the North Bay Sports Hall of Fame:
A North Bay native, Geoff Burton made tennis his game starting at the local Granite Tennis Club at an early age and winning numerous events locally in the under 12 to under 18 categories and then duplicating those feats in the north and provincially in Toronto and Sarnia among other centres. In 1986 he was ranked 10th in Canada in the Under 16 division. In 1992 he attended the University of South Alabama on a Tennis Scholarship and played for the school for three years - mostly as the #6 in singles. The team won the Sunbelt Conference title in 1994 and was ranked in the top 25 in the States. After University he moved to Massachusetts to pursue his life's work and didn't return to serious competitive tennis until he was over thirty. In 2005 he had a New England #1 ranking in Mixed Doubles and in 2006 started a string of three straight New England #1 rankings in Over 35 Singles. That same year he won the Over 35 Singles title at the Fiesta Bowl in Arizona. In 2007 he achieved a #6 National Ranking by the USTA in Over 35 Men's Singles. Also in 2007 he was a finalist in singles and doubles in the USTA National Indoor Over 35 division and achieved #29 ranking, his best, on the International Tennis Federation's Over 35 Singles listings. Competing in Canada he won the Eastern Canadian Over 35 Singles and Doubles titles in Montreal in 2009 and went on to win the Canadian Over 35 National Doubles Championship and was ranked #1 in Canada in Over 35 Doubles that same year. In 2010 he was selected to represent Canada in the Over 35 World Team event - the Italia Cup in Mexico City where Canada finished 7th and Burton himself won 4 of 7 matches. He was the second individual to be elected to the NBSHF on his tennis feats.
George Couchie, a lifetime resident of North Bay, played a number of sports in high school and began to compete in regional and provincial junior powerlifting events in the late 1970's.Couchie began a 33 year career in police work in 1981, serving with North Bay, First Nations, Anishnabe and the OPP. He continued his powerlifting after he joined the North Bay Police Force and in 1985 qualified for the National Police Games. In the 1980's and 1990's these Games were an important athletic event in Canada with over a thousand competitors from Canada and the U.S. taking part. From 1985 to 1992, when he retired after some 17 years in competitive powerlifting, he racked up seven gold medals and a silver in powerlifting and bench press in the Police Games. In his first year he took gold in the 82.5 kilo class and from 1986 through 1991 took top spot in the 90 kilo division. In 1988 he won the Best Lifter Award for the complete games. In 1990 he took silver in bench press. The National Police Games annually attracted between 80 and 90 top powerlifters from across the country.He played organized softball from 1975 to 1990. He was with the Merchants in 1983 when they won an NSA Intermediate 'AA' banner and played oldtimers ball until 2011. In 1976, at the age of 17, Couchie began a better than 15 year stint as a Special Olympics volunteer coach, tutoring young people in floor hockey, ball, track and weight lifting in a program that, in its day, was one of the most productive and inclusive Special Olympics programs in Ontario. In 1988 he was awarded a Calgary Olympic Celebration medal for his outstanding coaching in the Special Olympics field.He coached in the North Bay Minor Hockey system for 14 seasons from 1992 through 2005 and was involved in minor baseball for several years. He worked with the North Bay Centennials OHL strength training crew for a decade - directing the program from 1987 through 1991.He was long recognized for his ground breaking work with youth at risk, using recreation and traditional aboriginal beliefs as two of his tools.
North Bay born Peter Gavan became involved in girls volleyball in 1970 with a grade four girls team and for the next 36 years he was deeply immersed in the sport as a coach, organizer and official and helped bring girls volleyball to the forefront in North Bay and Northern Ontario by raising the level of competition in the sport; helping create the All Ontario Catholic Girls tournament; bringing National Coaches to North Bay for workshops; working to create the city's first Club volleyball team in 1980 and bringing the Canadian National Mens team to the city to play exhibition matches against the Polish and American National squads in 1979 and 1981. He started coaching at the high school level in 1975 at St. Joseph's College winning two NDA and one NOSSA crown in his first two seasons. Under his leadership St. Joseph's and later St Joseph's/Scollard Hall won ten NOSSA gold medals in Junior and Senior girls events, including five in a row from 1986 through 1990, and qualified for OFSAA six years in a row. St Jos took silver at OFSAA 1979. In 1980 his Club squad took silver at the OVA and were ranked 7th in Canada. He coached in a couple of Ontario Winter Games and started a tradition of local players attending summer volleyball camps. In the first seven years of the All Ontario Catholic Girls tournament, St Joseph's won six golds and a silver. He became a level three OVA coach and after retirement officiated for five years. Peter Gavan was a coach, mentor and pioneer in girls volleyball.
North Bay's Rose James was proficient in artistic gymnastics, power tumbling, trampoline and ultimately double mini trampoline. She competed across this country and in Europe in a career that started when she was three and ended 22 years later in 2006. Locally, she competed for both Apollo and Gymtrix Clubs, successfully auditioned for Cirque du Soleil and specialized in Power Tumbling until discovering Double Mini Trampoline - a combination of tumbling and trampoline. She competed regularly through high school at Widdifield and University at Guelph successfully juggling gymnastics and education and winning many local, regional and provincial honours. As a Junior she took 4th in the DMT national trials, was named to the Canadian Junior team and earned a 5th in the World Age Group Championships in Germany as well as taking bronze in Tumbling at Junior Nationals. She began competing at the Senior level in 2004 where she placed 2nd in Canada in Senior World DMT trials, was named to Team Canada and took 4th in the Canadian Championships. The following year she won silver at the DMT Canadian finals and a silver at the Ontario Trampoline Championships. She was on Team Canada as it placed 3rd in the 2005 World Championships in the Netherlands. In 2006, her final year of competition, she won the Canadian Senior Women's DMT title in Laval, was 6th in Canada Cup and 8th in the World Championships in Belgium and won a coveted International Award from Gymnastics Canada.
North Bay native Mario Spina played football, basketball, soccer and golf but football was his main game. Attending Scollard Hall the "pony" back helped the Bears to three NDA football titles in four years - scoring touchdowns and kicking field goals and converts - in 1974 he picked up 88 points doing just that. Twice athlete of the year at Scollard he won awards for football, basketball and soccer. Advancing to the Northern Football Conference in 1976 he played three years for the Ti Cats piling up over 1500 yards on rushing, kick returns and pass receptions while scoring 74 points. He won NFC Rookie of the year honours and was named to the All Star team as a running back and punt returner. The NFC was a summer league and in the fall of 1976 he enrolled at Concordia University and played 2 1/2 years varsity football. After being named Freshman Athlete of the Year he took a year off to travel then missed his whole sophomore season with a shoulder injury before playing a full year in 1979. The 5 foot 7 inch 180 pounder scored 61 points and amassed over 5300 yards for his alma mater on rushing, pass receiving, punt and kickoff returns and punting. Over 4000 of those yards were on punting where he averaged 35 yards a kick. He set a Canadian Intercollegiate record with a 109 yard pass and run play while with Concordia. His promising football career ended prematurely when he suffered a serious knee injury early in the 1980 season and he was never able to play again although he spent the 1981 and 1982 seasons as an assistant coach with the Stingers.
The 41st Annual Induction and Awards Dinner for the North Bay Sports Hall of Fame was held Saturday, May 14, 2022 at the Davedi Club. To view a gallery of photographs taken at the 2022 dinner by Al Orlando, click here.
Galleries from previous dinners can be found at the following links:
For further information, contact: Pete Handley (472-3573), Bill Jacko (492-3961), or Dave Saad (476-3421).
To download a copy of the program (in adobe pdf format) from the 2018 Induction dinner, click here.